Versions Compared
changes.mady.by.user Steffi
Saved on
compared with
changes.mady.by.user Steffi
Saved on
Key
This line was added.

This line was removed.

Formatting was changed.
German
Nach der vollständigen Anlage der 360°-Umfrage bzw. ab der Anlage der vierten Personalakte können Sie die Bezahlung vornehmen.
Dazu gehen Sie bitte auf die Kachel Bezahlung: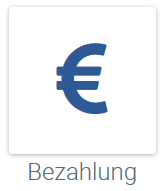 Image Removed
Wir bieten Ihnen zwei Zahlmethoden an, wenn Sie Zahlungsart hinzufügen auswählen.
Image Removed
Ihre einmal angelegten Zahlungsarten werden gespeichert und sind für zukünftige Zahlungen leicht auswählbar.
Im Anschluss können Sie entweder eine fertig erstellte Umfrage auswählen (nicht abgeschlossene Umfragen werden nicht zur Auswahl angezeigt) oder Mitarbeiterakten kaufen.
Zur Umfrage kaufen Sie pro Teilnehmer eine Mitarbeiterakte mit dazu.
Kaufen Sie nur die Mitarbeiterakten, können Sie hier die Anzahl festlegen, wie viele Sie benötigen. Im Nachhinein lässt sich die Anzahl natürlich jederzeit erhöhen. 
Zahlung per Kreditkarte
Sie haben die Möglichkeit eine oder mehrere Kreditkarten hinzuzufügen. Bitte beachten Sie dabei das Gültigkeitsdatum der Karte.
Zahlung per Bankeinzug
Bei der Zahlung per Bankeinzug müssen Sie nur Ihre IBAN eingeben und das SEPA-Lastschriftmandat bestätigen. Dieses bekommen Sie per Email zugesandt. Je nach Zahlungstag und Bank kann die Abbuchung einige Tage in Anspruch nehmen. Sobald wir den positiven Zahlungseingang vermerkt haben, kann Ihre Umfrage zu Ihrem gewählten Startdatum live gehen bzw. sind Ihre Personalakten editierbar.
Sie bekommen zwei Emails mit Verweis auf Ihre Rechnung, die Sie sich unter Übersicht selbstständig runterladen können sowie darüber, dass Sie die Akte nutzen können bzw. die Umfrage live gegangen ist.
Rechnung
Im Anschluss an die Bezahlung steht Ihnen unter dem Reiter Übersicht die aktuelle sowie vergangene Rechnungen zur Verfügung. Sie bekommen einen Überblick über alle ausgeführten Zahlungen und hinterlegten Zahlungsarten sowie Ihre Adressdaten. Bitte halten Sie diese aktuell.
English
Pagetitle
What methods of payment are accepted?
What methods of payment are accepted?
You can make the payment once the 360-degree survey has been entirely created or the fourth personnel file has been created.
To this end, please click on the tile Payment: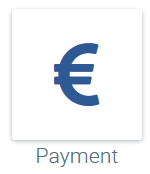 Image Modified
             
Two payment methods are provided when you select Add payment type.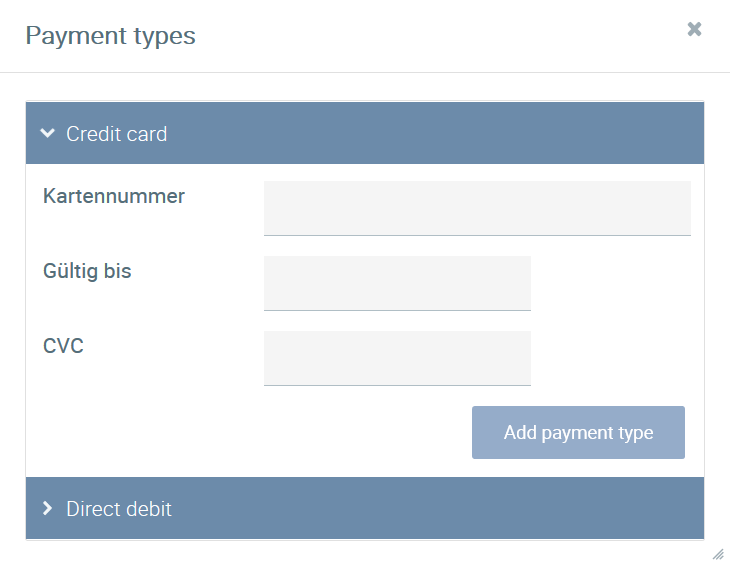 Image Modified
Once created, your payment types will be stored and can be selected easily for future payments.
Following this, you can either select a completed survey (incomplete surveys will not be displayed in the selection list) or buy personnel files.
You buy a personnel file for each participant for the survey.
If you wish to only buy personnel files, you can define the number you need here. Of course, this number can be increased at any time. 
Payment by credit card
You can add one or more credit cards. Please make sure that the date for the card has not expired.
Payment by direct debit
If you wish to pay by direct debit, you just have to enter your IBAN and confirm the SEPA direct debit mandate. You will receive this by e-mail. The payment procedure might take a few days depending on the payment date and the bank. As soon as we receive your payment, your survey can go live or your personnel files can be edited on the start date that you have chosen.
You will receive two e-mails informing you about your invoice, which you can download under Overview, and the fact that you can use the personnel files or that the survey is live.
Invoice
Once payment has been made, current and previous invoices will be available under the tab 'Overview'. An overview of all payments made, the payment types defined as well as your company details is provided. Please keep these up to date.