Versions Compared
changes.mady.by.user Steffi
Saved on
compared with
changes.mady.by.user Steffi
Saved on
Key
This line was added.

This line was removed.

Formatting was changed.
The automatic absence management function for managing periods of absence automatically can be handled operated easily and mobile via the chatbot (in the application or mobile via messengervia a mobile app e.g. Messenger). Your employees can apply submit requests for leave or call report in sick via Skype, SMS, telegram or similarTelegram etc. They will immediately receive feedback a reply that your their request has been submitted or even approved if it meets the preset configured criteria. A sick report is recorded and stored in the personnel file. If you have receive a certificate of incapacity for work, it can also be uploaded and attached to the sick certificatenote.
If you want to record absences in addition to your personnel files, please go to the tile tile Absences.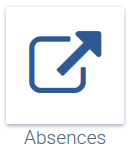 Absences contain the The following information and overviews are stored under Absences: