This topic has been newly developed and provides up-to-date information on the following topics:
New employees
Employees leaving
Cases of illness
Holiday leave
Birthdays
Time recording: Start time and end time has not been posted and the break to be posted manually has not been entered
In addition, you can have Today's news, selected in the overview, sent to you daily by e-mail.
Read more at Daily Topics.
Add Daily Topics to favourites
To add the Daily Topics to your selection, please select the menu

after logging in.
If you see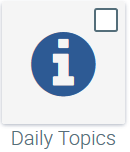 , please click the box at the top right and save by pressing

. Afterwards you will always be able to select Daily Topics.