Select the tile Absences.
Employees only see their own periods of absence. Users can obtain an overview, submit or cancel requests for leave at any time. Employees can also report in sick and, if necessary, upload a sick note. 
If you are a superior, you can only see your own periods of absences and those of your employees. In addition to the above-mentioned rights as an employee, you can approve or reject your employees' requests for leave under Actions.
If you work in the HR department and have administrative rights (HR profile), you can obtain an overview of the absences for all employees and capture leave requests for the employees themselves (for example, if an employee does not have electronic access), approve or cancel them.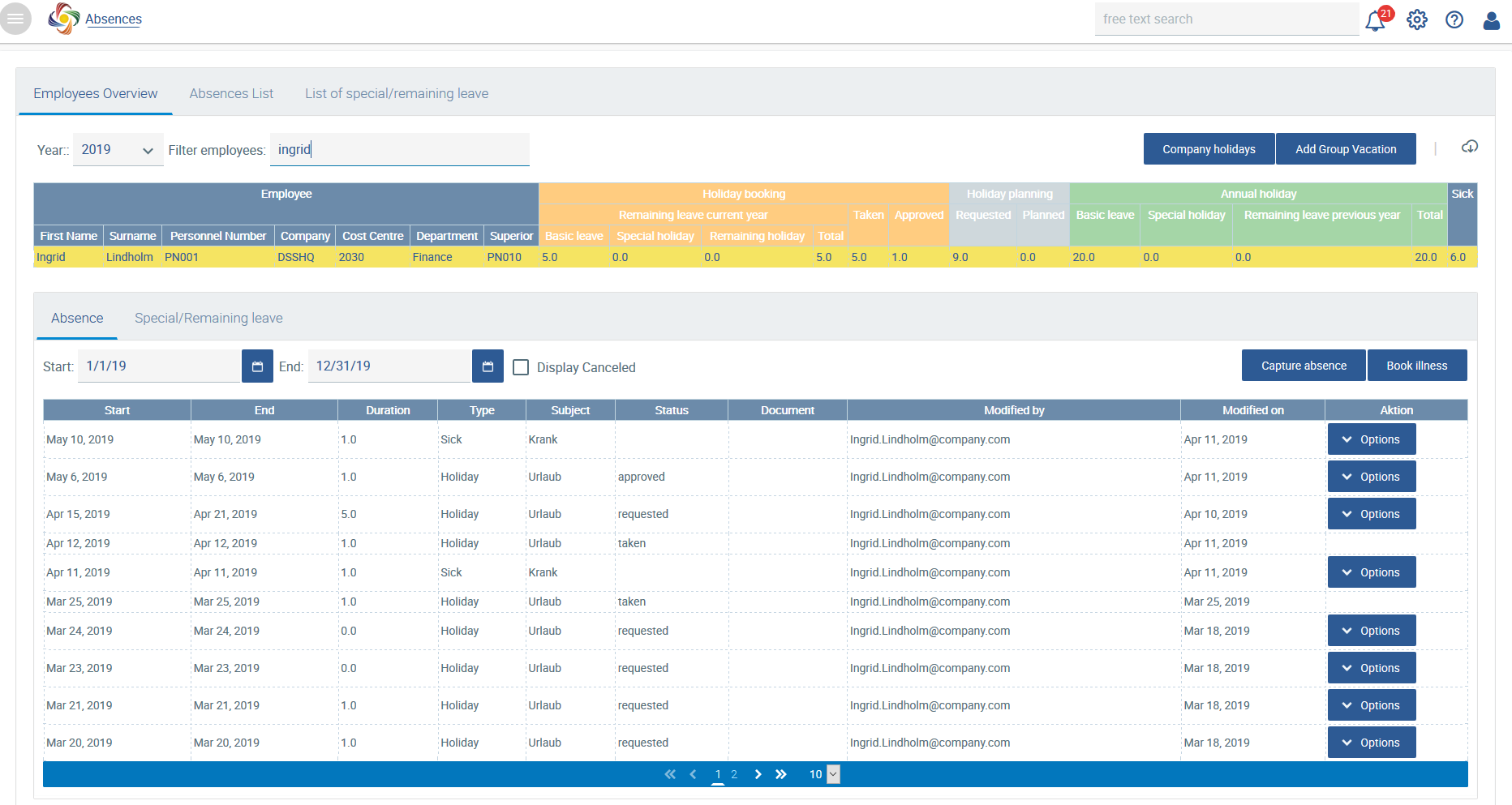 Applying for leave
To apply for leave using the application, please select  

and enter the dates for your leave.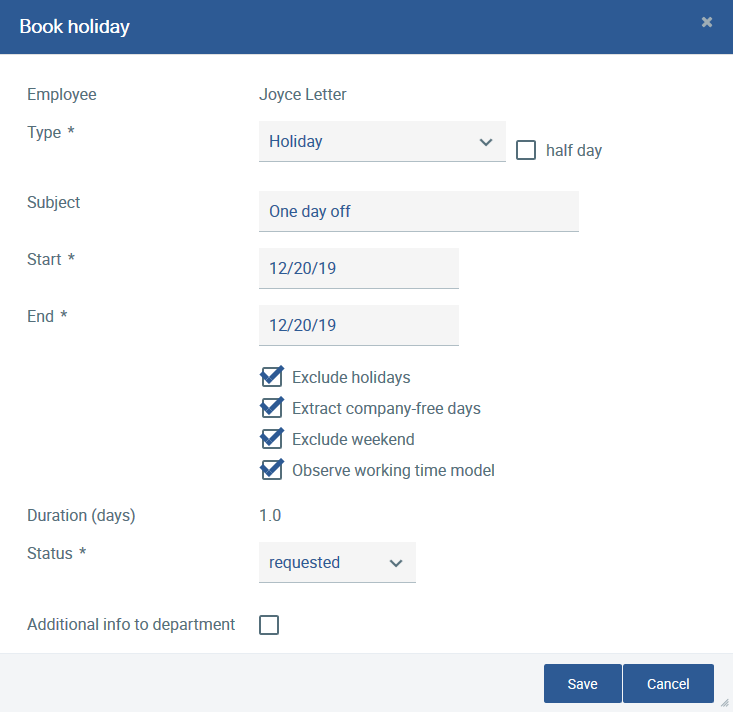 Under Type , you can also select special leave or half-days off.
The duration is calculated from the start and t the end of the period of absence and from the settings in the working time model. If you have configured a 4-day week in the working time model, only 4 days are deducted from the leave calculated for one week.
Each request for leave is sent by e-mail to the applicant, the personnel department and the superior. If you wish to send an e-mail to the department, please tick the box Additional information to department.
As soon as the entry has been saved, the selected e-mails will be sent via the request for leave in the status respectively.
.

Recording of leave from 08.07.2019 to 19.07.2019 in the overview of absences for the employee Ingrid Lindholm
Leave that has been requested can be approved, rejected, or cancelled directly under Actions .
Leave can also be approved of immediately by the software. To this end, please configure yourself the number of days off which do not require intervention by the supervisor or the personnel department.
To add group leave, please refer to the documentation under List of special/remaining leave.
Reporting of sick days
To report a period of illness using the application, please select

.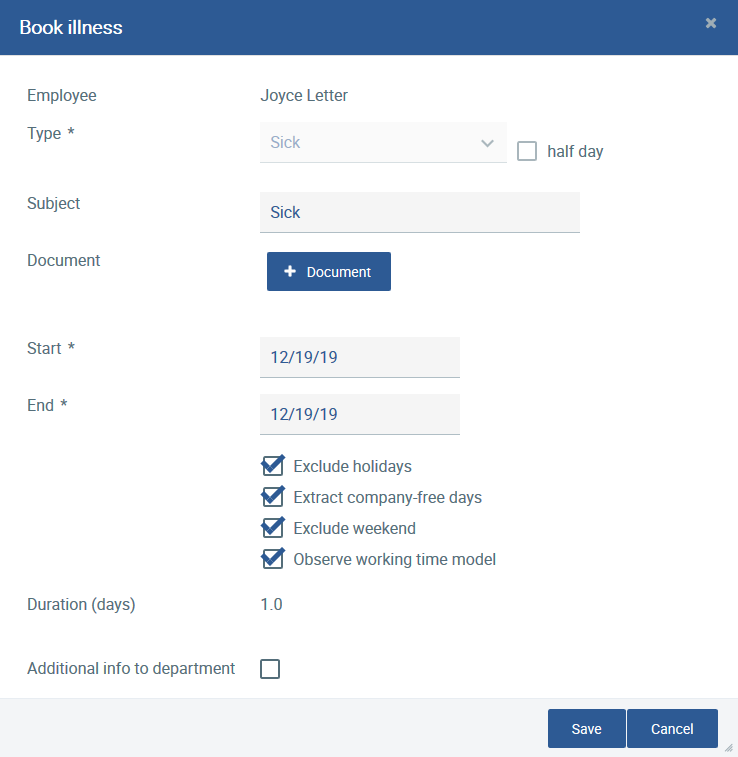 It is possible to directly attach a certificate of incapacity for work issued by the doctor to the entry. This can also be done afterwards at any time.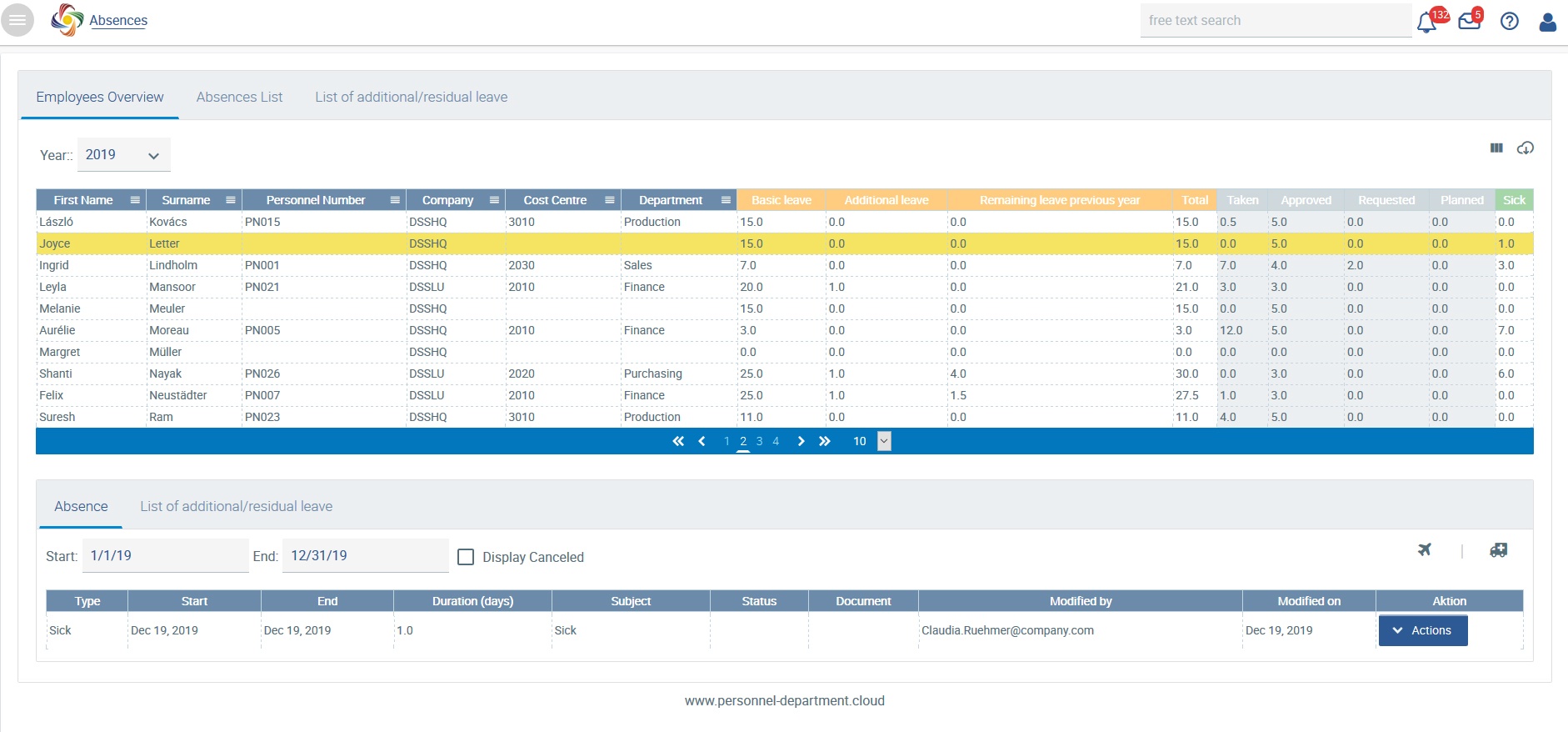 Sick note for 02/09/2019 for the employee Claudia Rühmer in the overview of absences 
If you check the box

, the system also displays the absences that have already been canceled. These can no longer be changed using Actions. Annual holiday closures cannot be edited via Actions, because they have been defined in the configuration and apply at a central level.
All periods of absence can also be exported by

.